The post Asians are ready to explore the world appeared first on TD (Travel Daily Media) Travel Daily.
Booking.com has launched its inaugural APAC Travel Confidence Index, which provides a snapshot of how confident consumers feel about exploring the world again, as well as whether they would welcome inbound travel. The commissioned research polled 11,000 travellers from 11 markets¹ across Asia and Oceania between April and May 2022, combining this with the company's proprietary data and insights as a digital travel leader over the past 25 years.
The Travel Confidence Index explores the overall comfort levels, motivators and concerns of consumers across the Asia Pacific and how this varies across the region. 71% of Hong Kong travellers plan to travel in the next 12 months. A similar percentage of them "just want to get away" since they are sick being stuck at home. At the same time, the top three considerations when booking their next trip are safety (63%), quarantine periods (58%) and cost (51%).
As Asia starts to emerge from several years of strict border closures and lockdowns, the diversity in terms of consumer travel sentiment and confidence across Asia Pacific has certainly become more pronounced, with key findings highlighted below.
Travel Confidence Market Ranking
Across the 11 markets polled, India emerged most confident with 86% of India travellers stating they intend to travel in the next 12 months; followed closely by Vietnam and China. While North Asian markets of Korea, Taiwan and Japan ranked lower on the index in terms of overall confidence, travel intent among respondents remained relatively high (above 60%).
Hong Kong ranked 7th on the Travel Confidence Index despite having a continuous tight border restriction in past years in comparison to many markets across the region.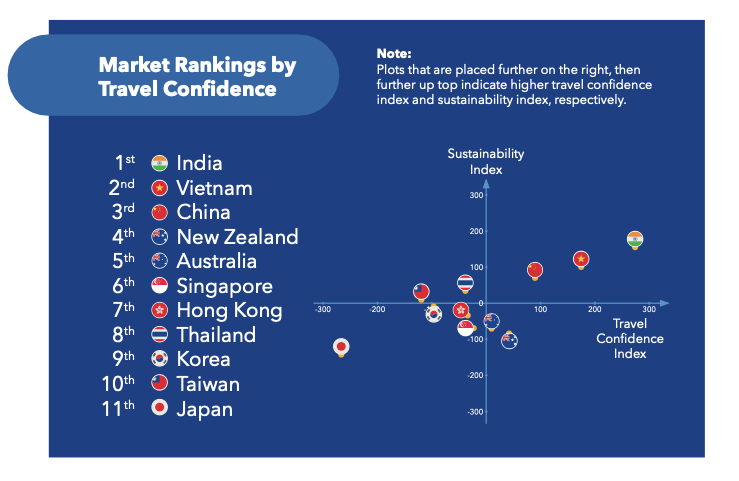 "It's truly been heartwarming and exciting to see travel in Asia Pacific returning with the easing of most border restrictions. This has reinvigorated not just consumers, but the travel industry overall. Our  APAC Travel Confidence Index reflects how while travel intent remains strong, travel confidence remains nuanced across Asia – for a variety of reasons. It is a promising indication of the opportunities available for the industry to adapt and collaborate now to bolster the overall confidence of travellers, so we can truly make it easier for everyone to travel and experience the world again in a sustainable way." shared Laura Houldworth, Managing Director of Asia Pacific at Booking.com.
The post Asians are ready to explore the world appeared first on Travel Daily.