The post How Agoda can help hoteliers achieve the competitive edge appeared first on TD (Travel Daily Media) Travel Daily.
Krishna Rathi, Agoda – Country Director, India, Maldives and Sri Lanka spills the beans on what makes digital travel platform, Agoda, the right solution as travel comes back bigger and stronger.
Travel is resuming the world over, and Indian travel enthusiasts are at the forefront of bringing travel back, both within their home country, across South Asia and globally. With the digitisation of the travel and tourism sector, consumers are now spoilt for choice when it comes to options – for flights or transport, stays, experiences, food and beverage, and much more. In this dynamic environment, it becomes even more important for hoteliers and property owners to showcase themselves to reach the right target audience, at the right time and through the right channels. So, what makes digital travel platform, Agoda, confident it is the right solution?
Being a tech-first company
After start stop restrictions for over two years, hoteliers are even more committed to finding resources that can help them achieve their business goals more efficiently. There is a need to focus on increasing the hotel's digital visibility, expand the audience reach, better the customer service, and improve on the quality of the stay experience. Agoda prides itself as a tech-first company, and has a global presence with more than 30 lakh properties in over 200 countries and territories worldwide.
Agoda employs more than 1,000 engineers who drive product innovations that suit the needs of both partners and travellers alike. Agoda's Growth Program is leveraging marketing optimization technology that helps hotel partners reach out to new and existing customers in a cost effective way, helping thousands of properties in India find and secure new customers.
Insights driven product options to grow business
Agoda's partners see Agoda as a valuable channel that helps differentiate their offering from other properties. Dedicated account management, insights and intelligence, supported by a partner portal, ensure Agoda provides innovative and trusted products that partners rely on to grow their business.
For example, the platform's recent research showed a trend that travellers are more likely to book if additional perks are included in the offer such as F&B incentives, room upgrades and early check-in/late check-out.  Agoda Special Offers (ASO) was developed which has led to higher exposure, click-throughs and bookings for participating partners. The platform provides hoteliers with insights across key verticals like Operations (catalog/image quality), Performance (pricing conversions, visibility) and Customer feedback, allowing them to use all three to their benefit in improving their offerings. What has further helped are the dedicated website pages showcasing special offers with partner properties, supported by digital marketing, public relations and social media.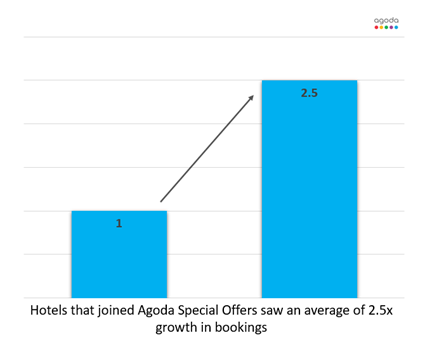 Data insights drove innovation for other pandemic product solutions, such as GoLocal, EasyCancel, and Hygiene Plus, which helped partners to capture the latent demand there was.  Also, with mobile being an increasingly significant platform particularly in India, Agoda has focussed on developing products or initiatives specifically targeting mobile and app users.
Solutions and insights are shared on Agoda's Partner Hub (www.partnerhub.agoda.com) and YCS extranet, with easy-to-use dashboards that allow properties to manage their own presence and leverage products to reach new customers.
A business partner
It's a big decision to outsource reservations and marketing solutions to OTAs. The benefits of partnering with Agoda include having access to the type of big data which otherwise might not be accessible to most hoteliers and property owners.  These data insights combined with easy-to-use dashboards simplify the marketing decisions for hoteliers, leaving them more time to focus on the hospitality side of the business.
Agoda employs more than 4,800 staff in 32 markets, including India, dedicated to generating bookings for partners, who range from independent hoteliers as well as homeowners to large well-known branded properties that in turn offer travelers a wide choice of accommodation options across the budget spectrum. Check out www.partnerhub.agoda.com for more information.
The post How Agoda can help hoteliers achieve the competitive edge appeared first on Travel Daily.