The post Plymouth on global event destination map after success of SailGP appeared first on TD (Travel Daily Media) Travel Daily.
The spectacular success of this summer's Great Britain Sail Grand Prix in Plymouth has put the city on the map as a global event destination reaching millions around the world and bringing a huge economic boost. July's event reached a total worldwide TV audience of more than 74 million in over 175 countries, showcasing the city's stunning city and seascapes, and reaped an economic impact upwards of £10 (approx. USD 11.80) million.
It also attracted almost 16 million video views on social media. And the ripple effect continues to be felt, long after the competitors and more than 31,000 spectators sailed off – representing 12 overseas nationalities – with ongoing benefits from the enormously popular weekend, which received a 100 per cent positivity rating for the city and the seal of approval from Her Royal Highness The Princess of Wales.
Plymouth's hosting of the world's most exciting racing on the water focused heavily on sustainability and the environment, as expected when the world's first climate positive sport and entertainment property comes to town and married SailGP's determination to be powered by nature and off the water by 2025 with Plymouth's ambition to be carbon neutral by then.
Among the initiatives was a USD 20,000 (£19,773) grant for a project delivering a reduction in carbon which saw four community groups across the city provided with solar panels.
Britain's Ocean City's Blue Green Village, a new free resource to help people better understand their marine environment, delivered numerous activities including the Ocean Heroes awards, a Horizons project to engage people with the UK's first National Marine Park and the opportunity to speak to the Ocean Conservation Trust which attracted 700 visitors.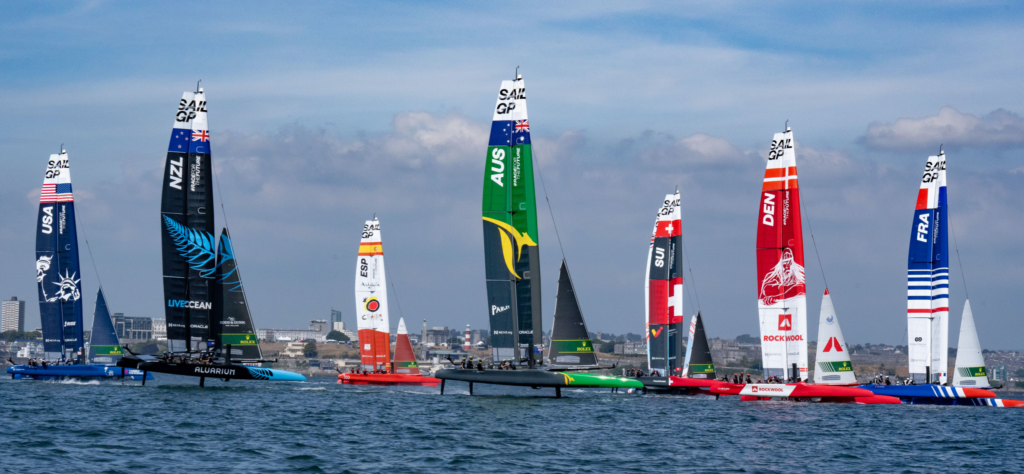 During the event SailGP's Impact League saw teams pitted against each other to reduce their carbon footprint in the city and Denmark SailGP Team presented by ROCKWOOL featured the city on its Beneath the Surface programme, attracting almost 500,000 views on social media.
Almost 1,500 young people were engaged through SailGP's Inspire youth and community outreach programme – where young people got the chance to experience the possibilities of a career in STEM from making and racing their own boats to experimenting with exciting tech used by SailGP. Accessible sailing sessions were provided for various groups including young carers and children with disabilities. Plus, the careers programme in the city was the biggest SailGP had ever seen with those taking part saying the experience was life-changing.
Also, according to a YouGov Sport report, the Great Britain Sail Grand Prix, on July 30 and 31, attracted the highest amount of online press coverage of all the events – 3,596 articles – boosted by the attendance of the then Duchess of Cambridge, now Princess of Wales, who took to the water to race onboard the British F50 with Sir Ben Ainslie.
A post-event economic and stakeholder report identified soaring levels of satisfaction with the event, with 95% of people interviewed reporting a positive overall experience and the atmosphere receiving a 98% rating. Absolutely everyone polled – a perfect 100% – said Plymouth's hosting of the race was a positive for the city.
Councillor Pat Patel, Plymouth City Council's Cabinet Member for Customer Services, Culture, Leisure and Sport, says: "This was a phenomenally successful weekend from every angle – whether that was visitors, competitors, local residents, businesses or the vast worldwide audience we reached.
"In particular, SailGP presented an opportunity like no other to attract global attention and national and international decision-makers to the city. We had three investment dinners, hosting key players in marine development and transport, which resulted in industry leaders concluding that Plymouth is now a serious marine city competing on a global scale. That is a fantastic endorsement.
"From our own experience, we knew that the event was a triumph for the city and its future aspirations. And to have its success quantified in such impressive terms just confirms Plymouth's place as a world-class city."
The post Plymouth on global event destination map after success of SailGP appeared first on Travel Daily.