The post Shama launches of Shama Social Club across its Bangkok properties appeared first on TD (Travel Daily Media) Travel Daily.
"Inspiring Neighbourhood Spirit" and connecting guests to each of Shama's distinct neighbourhoods, Shama launches Shama Social Club, an essential fabric of Shama's portfolio proposition key differentiator. The Shama Social Club concept is built on three main pillars – Contemporary living: Bespoke interior design that is practical and stylish, Without boundaries: Activities and programmes to acclimatise residents to the locale, and Thoughtful gestures: Considerate touches to help residents connect to the environment and feel right at home from the first day of their stay.
Mr. Yuthachai Charanachitta, CEO of ONYX Hospitality Group, said at the launch, "We are leveraging Shama Social Club to emphasise the holistic community-based Shama experience, with a focus on acclimatising residents to the locale, but also expanding it to be an important neighbourhood feature for people in those communities. This means when a Shama property hosts activities, pop-ups or community-based events, local people are free to join too. This is how we generate connections for people in communities across our city."
"We want to make Shama a thoughtful and valuable contributor to communities we touch; and so it is our passion to be a present member of our community with an open warmth. For Shama Yen-Akat Bangkok, that puts us in the heart of a vibrant, sought-after local neighbourhood which offers a multitude of shopping, dining, leisure and outdoor activities on the doorstep. It gives guests connectivity to local communities, proffering the Shama brand promise, Freedom to Explore."
ONYX continues its Shama expansion strategy, reinvigorating properties which fit the Shama brand personality, deriving spirit from being part of the neighbourhood where each location is seated. One of the newest additions to the Bangkok portfolio is Shama Yen-Akat Bangkok. The 136 extended-stay residences provide tranquil, comfortable accommodation with hotel-level services in the Central Business District of Silom and Sathorn. The property is connected locally to outstanding food and shopping destinations, including Market Place Nanglinchee a 3-minute walk away, and is close to Lumphini Park, Central Plaza Rama 3, and Thonglor Pet Hospital Sathorn-Narathiwas. The apartments are close to transportation links for city-wide access, are pet-friendly and provide welcome amenities for pets.
Shama Yen-Akat Bangkok appeals to discerning executives and travellers wanting an aspirational lifestyle beyond merely a stylish place to stay, chill, live & explore
Long-stay business travellers and short-stay leisure guests alike will find the apartments perfect for relaxing solo or spending time with family and friends. Offering spacious furnished residences in a lively yet refreshing neighbourhood, modern facilities and thoughtful services are part of the Shama guest journey.
Residents enjoy a place to call their own during their stay, with many benefits of a luxury hotel sojourn. It provides pet-friendly apartments with a capacious living area, inspired workspace to complete work-at-home flows easily, free Wi-Fi, and airy internal space flexibly accommodating unit sizing up to Two Bedrooms. Hotel-style amenities include ironing, refrigerator, tea/coffee making, international TV, and welcome bundle for pets that comprises a pet bed, food and water bowls, toys, shampoos and waste bags. The property is located just 90m from a dog care service, and close to Thonglor Pet Hospital. Social and leisure spaces include the Brunch Paradiso international restaurant, lap pool & Shama Gym.
Guests benefit from self-service laundry services, a shuttle to nearby BTS and MRT stations, on-site management and concierge, and a Dedicated Housekeeper, who builds a relationship with guests and is one of the most appreciated facets of Shama's guest services. The Dedicated Housekeeper conducts a Meet & Greet with new guests, and takes care of the apartment when residents are away. Shama properties offer new guests a "Hood Tour", which lets them learn their new home quickly and understand where to access, buy and use, and enjoy everything their new neighbourhood has to offer.
Yuthachai Charanachitta, Khun Top, CEO of ONYX, explains, "Our guests have given us insights into their needs and expectations, telling us things like they want to know their new neighbourhood quickly, and want to minimise acclimatisation stresses. The Shama offering is crafted around making people feel right at home from the minute they arrive, and encouraging them to explore the local neighbourhood and community of fantastic local people while engaging in fun activities.
"The launch event hosted today will demonstrate a sense of connection between the physical and social tapestry of Shama locations; we want to make the whole city available to guests wherever they stay. So, we bring as much to the doorstep as possible while liberating people to explore," he concludes.
The launch event day showcases Shama properties from across Bangkok, each presenting a taste and feel of what makes their own Inspiring Neighbourhood Spirit such a special part of their stay experience. The occasion culminates in an evening session giving guests a chance to connect, relax, enjoy the new Shama at leisure, and make some new friends via a sundown social mingle in the spirit of the Shama Social Club.
Shama Social Club brings together a likeminded community of global travellers who love connection and value social interactivity and new experiences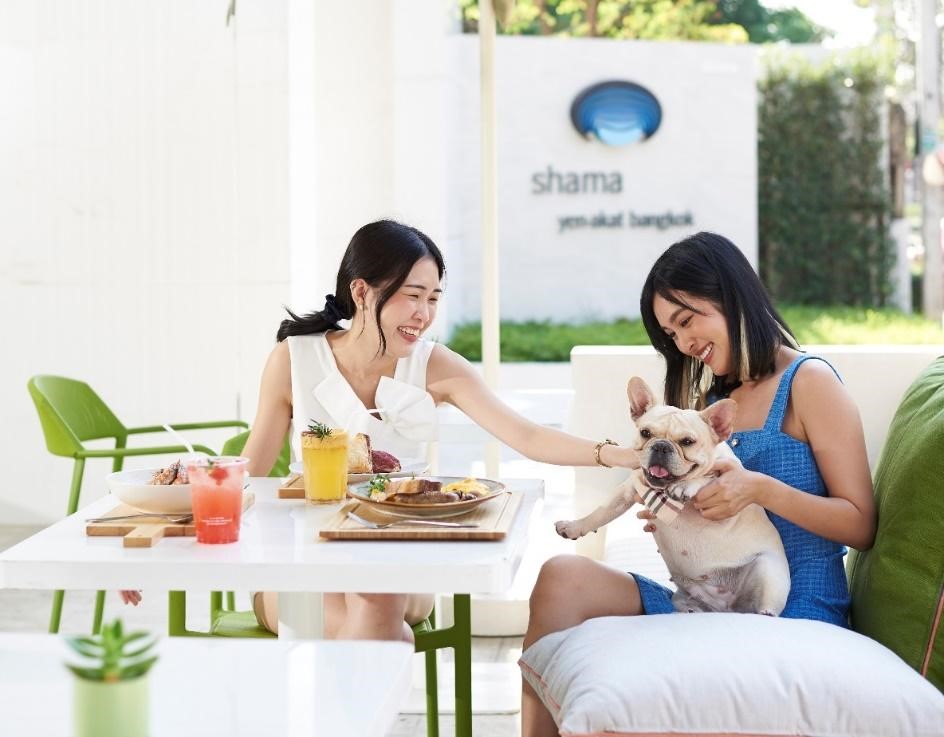 Shama serviced apartments are perfect for any type of stay, but it's the Shama Social Club that keeps guests coming back. Shama Social Club represents a global community of visitors built on connectivity, exploration, shared experiences and joy. Each Shama property uses this platform to deliver locally-tailored programs of activities, events, games, social occasions, food & drink, music, as well as a variety of guest services hallmarks, including CSR aspects such as serving as the local community food bank, and interactivity with local vendors.
Each activity is an opportunity to bring guests together. Shama residences seek to make all activations suitable for both short and long-stay guests, so each property plans fun-oriented activities, some of which are ongoing/regular community features. Where possible, these aim to be representative of the streets, souls, attractions and characterful signatures of their neighbourhood. These can be on-property or off-property; Shama teams do all they can to encourage guests to "get out there" and make the most of wonderful leisure days in the city, providing advice and connectivity to citywide must-sees and excursions. Shama also seeks to work with local businesses, connecting guests with those 'in-the-know' experiences across its neighbourhoods.
The Shama portfolio in Thailand currently comprises: Shama Yen-Akat Bangkok; Shama Lakeview Bangkok; Shama Sukhumvit Bangkok; Shama Sukhumvit 39; Shama Petchburi 47; and Shama Ekamai Bangkok
The post Shama launches of Shama Social Club across its Bangkok properties appeared first on Travel Daily.